220kV Oil-immersed Power Transformers
Low-loss, no local overheating
Our company has the complete transformer leakage magnetic field computing technology, which can reduce the additional loss and avoid local overheating by computing and analyzing so as to design and manufacture energy efficient transformers.
Low PD
Take advantage of the computer electric field analysis software to calculate and analyze the electric field strength of various parts of the winding, control the field strength of key parts strictly, improve the shape of the electrode, and strengthen the manufacturing process to ensure that transformer is clean, high-vacuum oiling is used to control the oil flow rate and ensure the oil quality and keep the partial discharge of the transformer below the national standard.
Visit Site
Low noise
High-quality high-permeability silicon steel sheet, low noise structure and low noise box combined with state-of-the-art manufacturing process ensures that the transformers of our company are characterized by low noise, the noise level is better than GB.
Good Short Circuit Bearing Capability
Improve the distribution of magnetic leakage in the short circuit state calculating and analyzing by using the dedicated computer software, reduce axial mechanical force. Constant pressure drying by using the whole package, control the height difference of the windings and improve axial stability. Select the winding form and the wire specifications reasonably, reduce power density and improve radial stability so as to ensure enough short-circuit bearing capacity
SFZ10-40000/110, SSZ10-50000/110, SFZ10-120000/220 transformers designed and manufactured by our company have passed the short circuit bearing capacity test of the National Transformer Quality Supervision and Inspection Center.
Good Anti-lightning Impulse Ability
Calculate and adjust the capacity parameters of all winding districts repeatedly to achieve the desired best fit using the dedicated transformer wave process calculation software so that it can achieve the ideal impact gradient distribution, improve the anti-lightning impulse ability of the transformer.
No Oil-flow Electrification
Oil line is reasonably structured, quantitative calculation and optimized adjustment of oil flow distribution within the body, the oil flow rate is strictly controlled so that it does not exceed 50cm / s, and keep high flow rate away from the high-field-strength areas.
Beautiful Appearance
The box is reasonably structured, the fuel tank uses flap process, reducing welding joint, the sealing surface is through finishing process, the sealing materials are rigorously tested, strengthening the component installation procedures, improving the overall quality of the installation and eliminating leakage.
Easy installation and maintenance
Using hanging-free core structure, no hanging cover inspection on the site, easy maintenance.
Technical Data Table of Three-phase Two-winding Off-circuit Tap Changing Power Transformers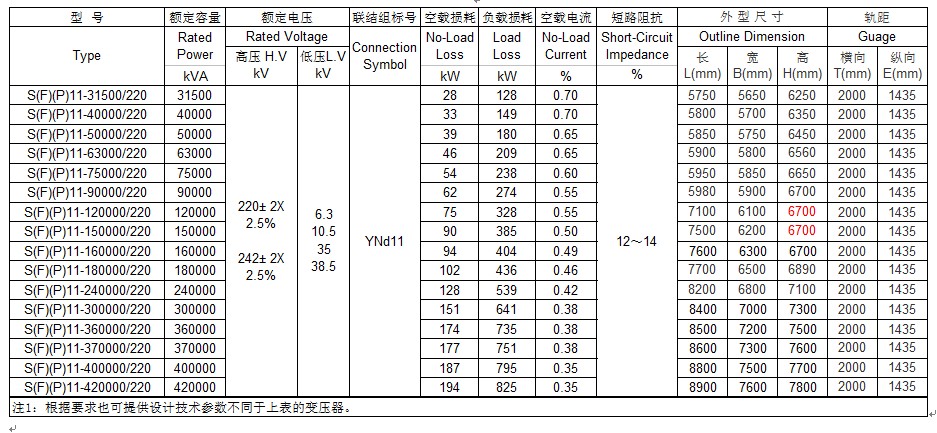 Technical Data Table of Three-phase Two-winding On-load Tap Changing Power Transformers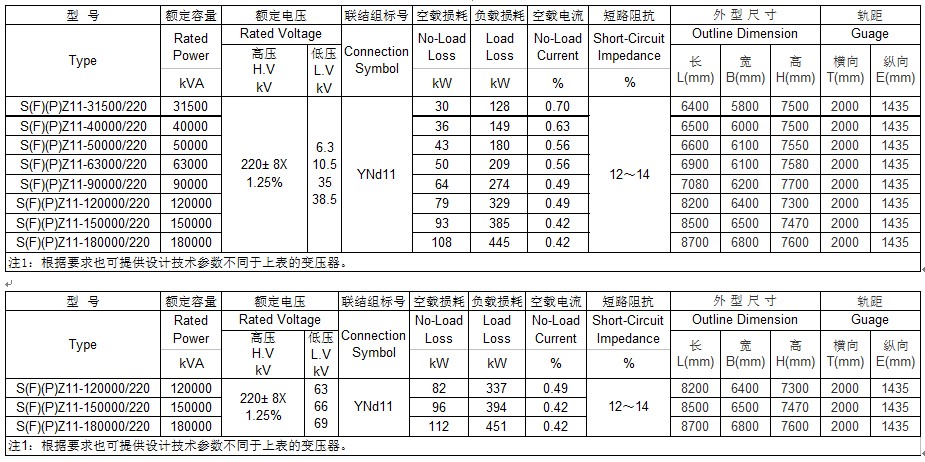 Technical Data Table of Three-phase Three-winding Off-circuit Tap Changing Power Transformers

Technical Data Table of Three-phase Three-winding On-load Tap Changing Power Transformers

Technical Data Table of Three-phase Three-winding Off-circuit Tap Changing Autotransformers(降压step-down)

Technical Data Table of Three-phase Three-winding Off-circuit Tap Changing Autotransformers(升压step-up)

Technical Data Table of Three-phase Three-winding On-load Tap Changing Autotransformers